Theater Fire Alarm Systems In Houston & Surrounding Areas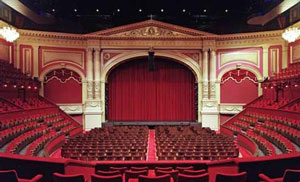 Fire hazards at a theater become elevated due to a few components of a movie theater, real or potential. There are tons of people in the dark; in case of emergency are there adequate Emergency Exit signs to tell people where to go? Does the darkness perhaps provide cover for other harmful mischief within the theater, like rebellious teenagers who want to smoke inside the theater? We offer our confidence in our ability to correctly install lawfully regulated fire alarms, control panels, and sprinklers to lead people out in the direction of viable exits during a fire emergency. Fire Alarm Houston effectively anticipates the fire emergencies possible in a movie theater and we design fire alarm solutions to be able to rapidly respond to them.
Unlike a community hall, church, school, or daycare, the patrons of a theater are not regular visitors to whom an evacuation protocol can be taught. It is unfeasible to practice fire drills at a theater, so Fire Alarm Houston's 24/7 monitoring can send help As Soon as Possible. If the management is willing, Fire Alarm Houston can also teach building managers to use addressable alarm panels, such as the MS-9050UD 50-Point Intelligent Control, to most efficiently evacuate movie-goers out of the theater.
From an investor's perspective, a theater is full of expensive collateral: comfortable reclining seats, wall to wall screens made of highly flammable and highly costly material, and the priceless lives that are inside the theater.
Schedule a FREE Estimate
Call Now 832-626-7837 or fill out the box below:
---
We know the importance of protecting your clients in the case of fire, especially with those large high ceiling stadiums that could prove difficult to outfit with fire safety equipment. Our company is a cut above the rest, because we are experienced with multiple types of sprinkler system fittings that could help reduce and control the damage incurred to your property in case of an unfortunate fire. 
Contact Fire Alarm Houston today at 832-626-7837 to learn about our professional approach to providing 360 degree fire protection for your movie theater.