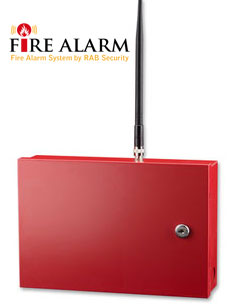 Fire Alarm Houston a RAB Security company provides Cellular Fire Alarm monitoring utilizing the latest GSM technology. We are excited to offer our customers cellular Fire Alarm Monitoring which in the long run is more cost effective due to the fact that there is no need for a landline. Our trained and certified installation professionals can add the Cellular Fire Alarm Monitoring device to your existing Fire Alarm system to meet all NFPA guidelines. 
Why Cellular Monitoring? 
The 2012 and earlier eddition of NFPA 72 requires 2(two) phone line to monitor any Fire Alarm panel. One phone line must be a dedicated and one can be shared. It must be Analog phone line, that might become costlier to have two analog phone line. The 2013 edition and earlier of NFPA 72 allows a single, UL 864 listed Cellular Fire Alarm device to replace all of your existing fire panel landlines. The Cellular Fire Alarm Monitoring can serve as the sole communications pathe for commercial fire alarm systems, transmitting alarm signals from the fire panel over the digital cellular network to the designated monitoring station.
Call today 832-626-7837 to get started!