Fire Alarm System in Pasadena, TX
When you need fire alarm systems in Pasedena, TX, you can count on Fire Alarm Houston to deliver the most modern fire and smoke detection systems available in the industry.
The importance of getting the right fire alarm systems for your home cannot be overstated. Fire accidents are a significant threat to American homes and businesses. Every year, more than 1.2 million cases of fire incidents are reported in the United States. In 2013 alone, these accidents resulted in over $11.5 billion in damages and more than 3,200 civilian deaths according to the National Fire Protection Association. Clearly, there is a big need for intelligent solutions that will help combat the threat of fire accidents.
State-of-the-Art Fire Protection Products and Fire Monitoring Services in Pasadena, TX
Fire Alarm Houston, an Alif Security company, is an industry-leading provider of fire safety devices and services in Pasadena and surrounding areas in Texas.
Since 2001, we have been providing our customers with the most cutting-edge fire alarm systems, protecting hundreds of homes,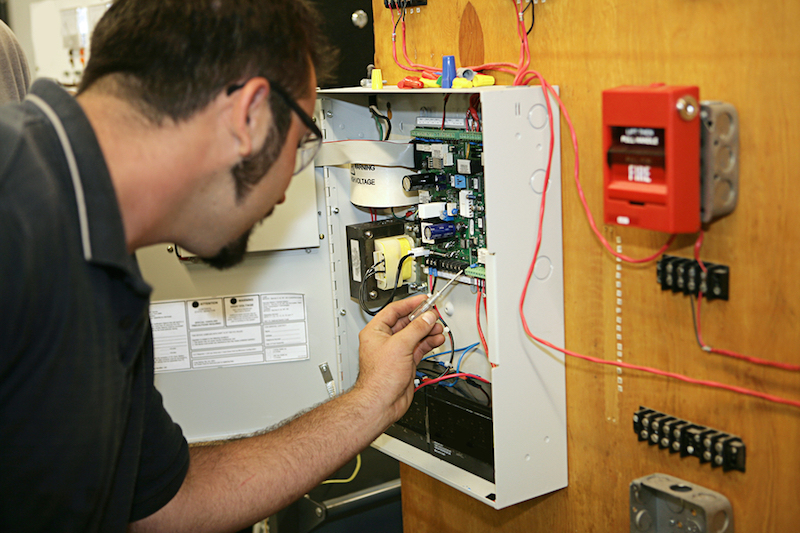 schools, offices, care centers, hospitals, clinics, gyms, retail centers, hotels, theaters, and other residential and commercial establishments from the dangers of fire, smoke, and carbon monoxide.
GET YOUR FREE FIRE ALARM ESTIMATE
Call Now 832-626-7837 or fill out the box below:
---
Additionally, we have three central monitoring centers throughout our service area, enabling our team to monitor our customers' fire alarm systems, sprinkler systems, and water flow systems to give the police and the fire marshals real-time information, while protecting the properties in the process.
Our products and services include:
Fire Alarm Houston is home to expert consultants and technicians who can help you design, install, commission, and maintain fire alarm systems for your home or business establishment in Pasedena, Texas.
When the safety of your home or business is at stake, don't leave everything to chance. Fire accidents can quickly destroy any structure, leaving all your precious family heirlooms, personal belongings, and expensive office equipment decimated. Fire alarm systems and fire monitoring are an absolute must.
Call Fire Alarm Houston now at 832-626-7837, and we will be more than happy to assess your home or building in Pasadena, Texas, to give you the best recommendations for an efficient and effective fire protection strategy. Our fire alarm systems are designed to meet all state and international safety codes and regulations.
Learn about Pasadena, Texas
Located within the Greater Houston metropolitan area, the city of Pasadena is home to more than 152,700 people. The city is the second-largest city in Texas' Harris County, next in size only to the county seat, Houston, which has a population of over 2.16 million.
The area where Pasadena now stands had been inhabited by Native American peoples long before the Spaniards arrived. In 1893, the city as it is known today was founded by Colonel John H. Burnett of Galveston, Texas. He named it after a city by the same name in California because he thought the area had flourishing plant life. Burnett was instrumental in the increase of railroad construction around the area.
Pasadena, TX was formally incorporated in 1928. In the middle of the 20th century, the city's economy flourished, thanks to the development of the petroleum industry, as well the establishment of NASA's Johnson Space Center and the master-planned community of Clear Lake City.
Today, the city's major employers include its school and college districts and several players from the aerospace and petroleum industries.
Fire Alarm Houston, a RAB Security company, has been serving Texas since 2000. We provide full-service fire alarm systems to the churches, schools, day care centers, dental and vision centers, retail shopping centers, office buildings, hotels and motels in the greater Houston area and in the state of Texas. We also monitor Fire Alarm Systems and sprinkler systems in your and nearly areas.
At Fire Alarm Houston, we are qualified to install, service, test and monitor the fire alarm systems we design. By working with us for your commercial fire alarm needs, you will know that only highly trained professionals are handling your fire alarm system.